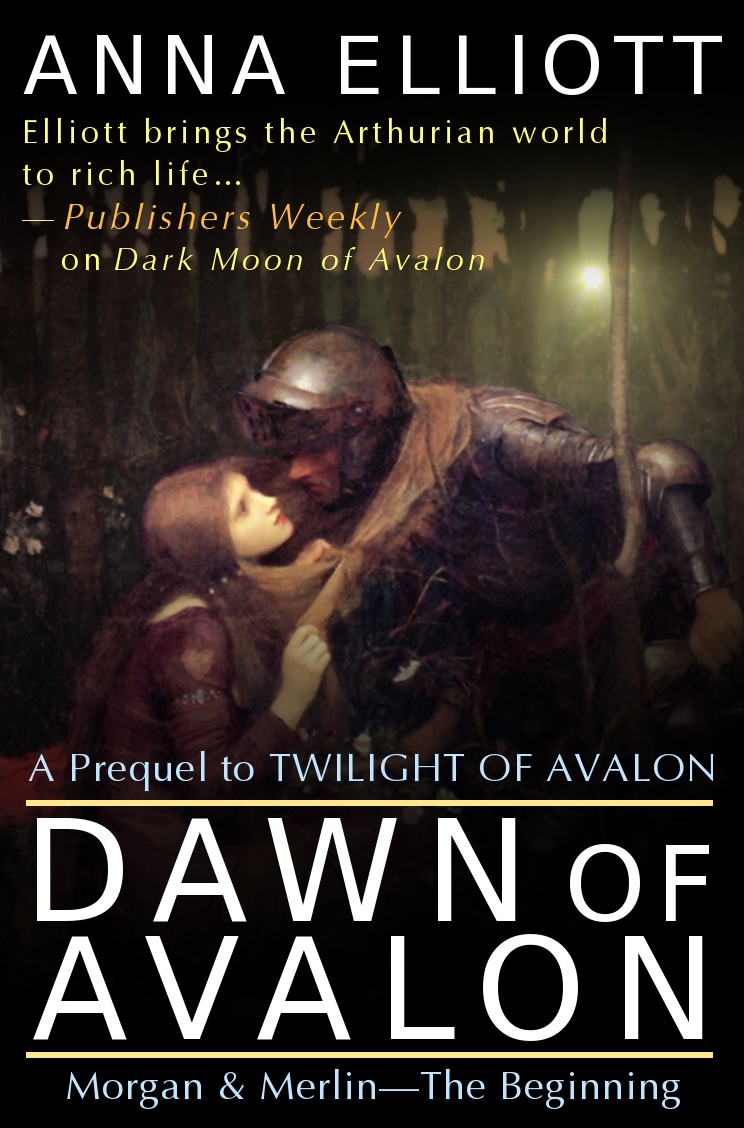 Dawn of Avalon by Anna Elliott is a prequel to her Twilight of Avalon Trilogy, which so far includes Twilight of Avalon and Dark Moon of Avalon
both of which focus on the romance of Tristan and Isolde. Set in Arthurian England Dawn of Avalon looks further back at the beginning of the romance between Morgan and Merlin and establish the family relationships prior to the events of Elliott's other novels. As this novel is set apart in time, it stands alone as a complete, if short, work and it is not necessary to be familiar with the Elliott's other books to enjoy it.
Morgan is a seer and a healer who is serving in the camp of Uther's enemies with the hope of assisting in his down fall. Disguised as a young boy and assisting in the torture of an enemy soldier, she finds that her cover may be blown and must make a choice whether to save the soldier's life and risk her own or allow him to die. It is this choice and the possible consequences she can foresee which force Morgan to confront her anger and doubts about who it is foretold she will become and question her commitment to her country.
While this is, at its heart, a romance, Elliott skillfully puts us in the mind of a young woman of great power who has to make choices which impact much more widely than just herself. The novel is fast paced as the event progress and I felt swept along with the predicament the characters find themselves in. While you might expect this 'free' novel to merely advertise Elliott's other novels, it is a fully complete, stand-alone novel with an engaging plot and characters. This type of publication is one of the many hidden gems of the ePublishing industry, and one I hope many other authors will take note of.
Stats
Title:
Dawn of Avalon
Author: Anna Elliott
Style: Historical/ Fantasy
/ Romance

Price: FREE
Date of publication: September 22, 2010
Length: 25 000 +
Can be found at:
Smashwords (Kindle, ePub, PDF, RTF, LRF, PDB, Plain Text & Online)
Amazon (Kindle)